MADRID, MADRID

CALLE MAHOU
CULTURAL CENTER COMPETITION, 2016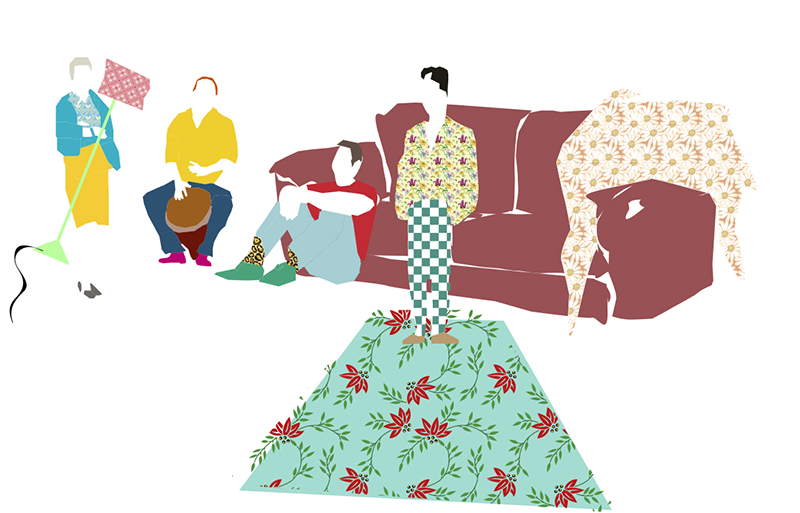 Location

Calle Mahou



Architectural strategy
The street life and the Patio

The shop, the office and the work station carts


A concert, and a living room.
Arquitectos:
ensalada works, Lorna de Santos y Paula Mena
Arquitecta a cargo:
Marta Badiola, Jorge Pizarro, Lorna de Santos y Paula Mena
La marca de cerveza española Mahou quiere transformar el antiguo palacio del Duque del Infantado en un espacio vinculado a Madrid y su gente, reforzando el objetivo de ser una empresa que, nacida en Madrid en 1890, pertenece a su historia y tradición.
Nuestra propuesta
: Madrid agrega una nueva calle:
CALLE MAHOU
.
Una calle que se suma al tejido urbano existente de la ciudad para convertirse en un nuevo hito para Madrid. La ciudad se expande dentro del edificio ganando terreno para sus ciudadanos, espacios para colonizar, espacios activos y reactivos.
Una calle que refleja la idiosincrasia de Madrid, su cultura, sus elementos, sus actividades, sus raíces con espacios reconocibles por el usuario llenos de elementos locales. Nuevos espacios llenos de tradición: el palacio se introduce en el horizonte de techos inclinados, macetas en las terrazas, balcones de hierro forjado, sándwiches de calamares, chotis, claveles, olor a mercado, conversaciones en plazas, puestas de sol rojas y cervezas en compañía. Mahou Street es Madrid y sus habitantes.
Un espacio creado por y para las personas
. Madrid no es solo sus calles, está en su gente y en sus vidas. La calle está llena de vidas de sus habitantes y sus habitantes la llenan con sus cosas. Las personas completan el espacio, el programa y el uso. Un espacio que fomenta el compromiso activo de sus vecinos y la integración en sus vidas.
La calle está rodeada de habitaciones, las habitaciones tienen tamaño y contexto, pero el programa que alberga la calle no se ve como estático, cerrado y compartimentado. En cambio, es un programa fluido y diluido donde cualquier cosa puede suceder aquí o allá.
El programa está en todas partes y en todas partes se puede crear el programa.
Un nuevo concepto Viajando a la Edad de Oro de la mano de Calderón de la Barca y un Botijo muy frío. Vea una Copa Mundial de Fútbol con sus amigos o acompañe a sus abuelos a sus actividades de dominó. No hay límite para las propuestas espaciales gracias a la fluidez espacial y la facilidad de acomodar nuevos escenarios.
Una calle que se abre paso en el edificio dividiéndolo en cinco piezas interconectadas para colocarse como nuevos edificios con nuevas fachadas levantadas por todos lados, fomentando la interacción entre los habitantes de esta nueva extensión del tejido urbano.
Al fragmentar el edificio, se crea una nueva comunicación accesible, compleja y dinámica. Permitiendo la navegación a través de todos los niveles, plataformas y pisos conectados entre sí, asegurando así la accesibilidad universal de la "calle". Una nueva apertura que mejora la seguridad y protección contra incendios, evacuación, accesibilidad y eliminación de barreras arquitectónicas. Mejora el rendimiento bioclimático adoptando la configuración propia de la
calle mediterránea
.
Uno de los lugares principales será el Patio, núcleo de actividades y foco de miradas desde cualquier lugar del edificio: pasillos, balcones y ventanas de las nuevas paredes interiores. Un patio de recreo para la informalidad.
Un patio de recreo para lo nuevo, para lo inesperado, para divertirse, relajarse, estar bajo el sol, estar a la sombra, oler las flores, beber cerveza, sentarse, mentir, escuchar una canción o una obra de teatro , reír, llorar. . .
La tienda o tiendas son móviles, flexibles y adaptables. A partir de esta idea, un carro plegable está diseñado para recorrer el edificio.
La tienda no está en ningún lado y está en todas partes, es donde están los compradores.
En la calle Mahou. Encima. Y abajo. Y se mueve con su carrito, y abre y cierra y "tintinea" en efectivo, y muchas gracias, y vuelve pronto. Y vas a la calle, pero ya estabas allí.
Pequeños espacios de reunión doméstica, hogar, pura sangre ... su sala de estar se incorpora: tenemos sofás, tenemos mesas, tenemos televisores y un flamenco encima de los televisores, tenemos la silla de su abuela, tenemos libros, revistas para cuando vas al baño, tenemos langostinos, ¡lo tenemos todo! ... y tenemos CERVEZA, en todas partes, gracias a un sistema de distribución que cubrirá el lugar con grifos de cerveza en múltiples puntos.
Para los trabajadores de Mahou, partimos del concepto de que una sala de reunión es gente reunida. No se requieren espacios específicos, pueden trabajar en el jardín, trabajar en la terraza, trabajar solo, trabajar con otras personas, trabajar sentado, trabajar de pie, trabajar quieto, moverse, trabajar en silencio, trabajar con ruido, trabajar aquí, trabajar allí ... y cuando dejes de trabajar ... ¡hora de tomar una cerveza! Los nuevos muebles adaptables, flexibles y móviles están diseñados para llevar al patio, a la terraza o al salón de usos múltiples. Se despliega y se pliega cuando se completa el trabajo, dejando las habitaciones libres para diferentes actividades.
Todas las decisiones fomentan un espacio interactivo y dinámico, lleno de comunicaciones físicas y visuales, creando espacios interactivos para Madrid: mirar por la ventana, cotillear, salir a la calle, vivir y cantar.
Experimenta la calle desde todos sus ángulos, desde arriba y desde abajo, desde la derecha y la izquierda. Camina, viaja. Descubre sus rincones. A la vuelta de la esquina hay un concierto, en la terraza de abajo hay una fiesta y allí hay una exhibición

Architects: ensalada works, Lorna de Santos y Paula Mena
Architects in charge: Marta Badiola, Jorge Pizarro, Lorna de Santos y Paula Mena

The spanish beer brand Mahou wants to transform the old palace of Duque del Infantado into a space linked to Madrid and its people, reinforcing the aim of being a company that, born in Madrid in 1890, it belongs to its history and tradition.

Our proposal: Madrid adds a new street: CALLE MAHOU.
A street that is added to the existing urban fabric of the city to become a new landmark for Madrid. The city expands inside the building gaining ground for its citizens, spaces to colonize, active and reactive spaces.
A street that reflects the idiosyncrasies of Madrid, its culture, its elements, its activities, its roots with spaces recognizable by the user full of locals elements. New spaces full of tradition.

The palace is introduced into the skyline of tiled pitched roofs, pots on the terraces, balconies of wrought iron, calamari sandwiches, chotis, carnations, market odor, conversations in squares, red sunsets and beers in the company. Mahou Street is Madrid and its locals. A space created by and for the people. Madrid is not only its streets, is in its people and their lives. The street is full of its inhabitants' lifes and its inhabitants fill it with their things. People complete the space, program and use. A space that encourages the active engagement of its neighbours and the integration into their lifes.
The street is surrounded by rooms, the rooms have size and context but the program that houses the street is not seen as static, closed and compartmentalized. Instead, is a fluid and diluted program where anything can happen here or there. The program is everywhere and everywhere you can create the program.
A new concept. Traveling to the Golden Age by the hand of Calderon de la Barca and a very cold Botijo. See a Soccer World Cup with your friends or accompany your grandparents to their domino activities. There is no limit for spatial proposals thanks to the spatial fluidity and ease of accommodating new scenarios.

A street that makes its way into the building breaking it into five interconnected pieces to stand as new buildings with new facades raised on all sides, encouraging interaction between the inhabitants of this new extension of the urban fabric.
By fragmenting the building, a new accessible, complex and dynamic communication within it is created. Allowing navigation through all the levels, platforms and floors connected together, thus ensuring universal accessibility of the "street". A new opening that enhances the security and fire protection, evacuation, accessibility and removal of architectural barriers. Improves the bioclimatic performance adopting Mediterranean street own configuration.
One of the main venues will be the Patio, core of activities and focus of looks from anywhere in the building: walkways, balconies and windows of the new interior walls. A playground for informality.

A playground for the new, for the unexpected, for fun, to relax, to be under the sun, to be in the shade, to smell the flowers, drink beer, to sit, to lie, to hear a song, or a play, to laugh, to mourn. . .
The store or stores are mobile, flexible and adaptable. Starting from this idea, a collapsible cart is designed to tour the building. The shop is not anywhere and is everywhere, is where the buyers are.


At Mahou street. Above. And down. And it moves with its cart, and opens and closes and "clink" cash, and thank you very much, and come back soon. And you're going out to the street, but you were already there.
Small domestic meeting spaces, household, thoroughbred ... your living room is brought into: we have sofas, we have tables, we have TVs, and a Flemish above the TVs, we have your grandmother's chair, we have books, magazines for when you go to the bathroom, we have prawns, we have it all! ... and we have BEER, everywhere, thanks to a distribution system that will cover the place with beer taps in multiple spots.
For the Mahou workers, we start from the concept a meeting room is people gathered. No specific spaces are required, they can work in the garden, work on the terrace, work alone, work with other people, work sitting, work standing, work still, moving work, work quietly, work with noise around, work here, work there... and when stop working ... time for a beer! New adaptable, flexible and mobile furniture is designed to take to the courtyard, the terrace or the multipurpose hall. It unfolds and folds when work is completed, leaving the rooms free for different activities.
All decisions foster an interactive and dynamic space, full of physical and visual communications, creating interactive spaces for Madrid: look out the window, gossip, go to the street, live and sing.
Experience the street from all its angles, from above and from below, from the right and the left. Walk, travel it. Discover its corners. Just around the corner there is a concert, on the terrace below there is a party and over there there is an exhibition. Day and night. Say hello to your neighbor, how are you Paco?, walk the dog. Just around the corner there's a party on the terrace there is an exhibition and a concert down there.