| hybrid | cultural | residential |


Harajuku is known worldwide and is part of the so-called "Special Neighborhoods" that forms Tokio´s city centre. We reach the area travelling through the Yamanote Line, iconic and most used metro line in the world. We arrive at Harajuku station, the most cosmopolitan hood of the city, reffered as an example everytime the word "urban tribe" comes up. The plot is located on the most singular crossing: where the end of the Omotesando ave comes to an end and reaches the entrance of the sacred park of Yoyogi, with the Meiji Jingu temple on its heart; the station of Harajuku and the Olympic Yoyogi Stadium, that will be reused in the Tokio Olympics 2020, takes the corners in front of the plot.
Hundreds of different agents gather in the area to show the visitors its most freak and singular face. On the weekend, the area transforms into a steet scenario. These modern and controversial world lives along with the tradition, the bussiness, the luxury brands and the celebration of religious festivities and an uninterrupted tourist flow.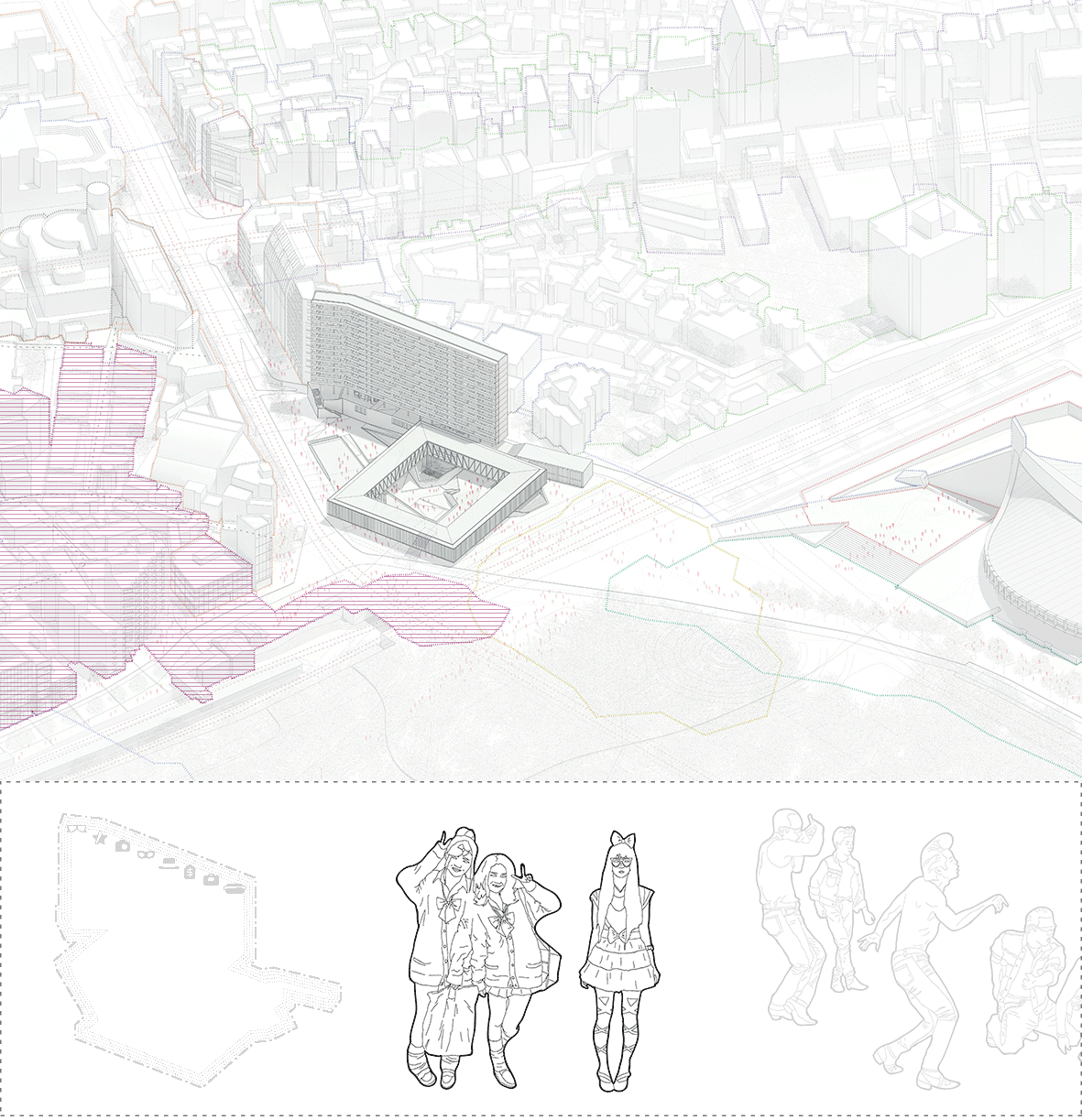 - - - - - - - - -

Location
In this context of brewing creativity, Cultoral Tokio is born to unite all the cultural interests of the people visiting the place. It will provide the neighborhood with a space for culture, multiprogramatic, common space of interaction and excahnge of knowledge.The building is composed by three very diverse areas, distinguished by its function, materiality and structure:
- Base/ground floor: topographic modification that holds an auditorium, library and provides access to the public program. The public circulation is solved through the Plaza; while the private accesses take place on the backside of the building. Semi-burried volume with a concrete structure.
- Cultural rooftop: space for the art, manga coffee and audiovisual expositions. The plastic shapes of the ground floor lead us to the ascension to culture, literally and figurativally. These volume contrasts with its light construction of metallic hollow beams; it sits like floating on the concrete and heavy looking structure previously described.
- Dwelling tower: slender in its transversal section and wide on its longitudinal section. Works as a barrier and limit for the block. The north facade opens to Omotesando avenue to work as a showcase of movement in heigh. It is separated from the world below by a promanade of column that support the tower.



- - - - - - - - -

Detailed plans



- - - - - - - - -

Dwelling modules


- - - - - - - - -

Sections



- - - - - - - - -

Technical documents



- - - - - - - - - - - - - - - - - - - - -
Author: Nehuén Blanco Imperiali
- - - - - - - - - - - - - - - - - - - - -