MADRID, MADRID

L C D T O
HOME REFURBISHMENT, 2016
A house is a house.
A house is a living room.
A house is a bedroom.
A house is a studio.
A house is a dining room.
A house is a dress.
A house is a bed.
A house is an armchair.
A house is a room.
One house is two.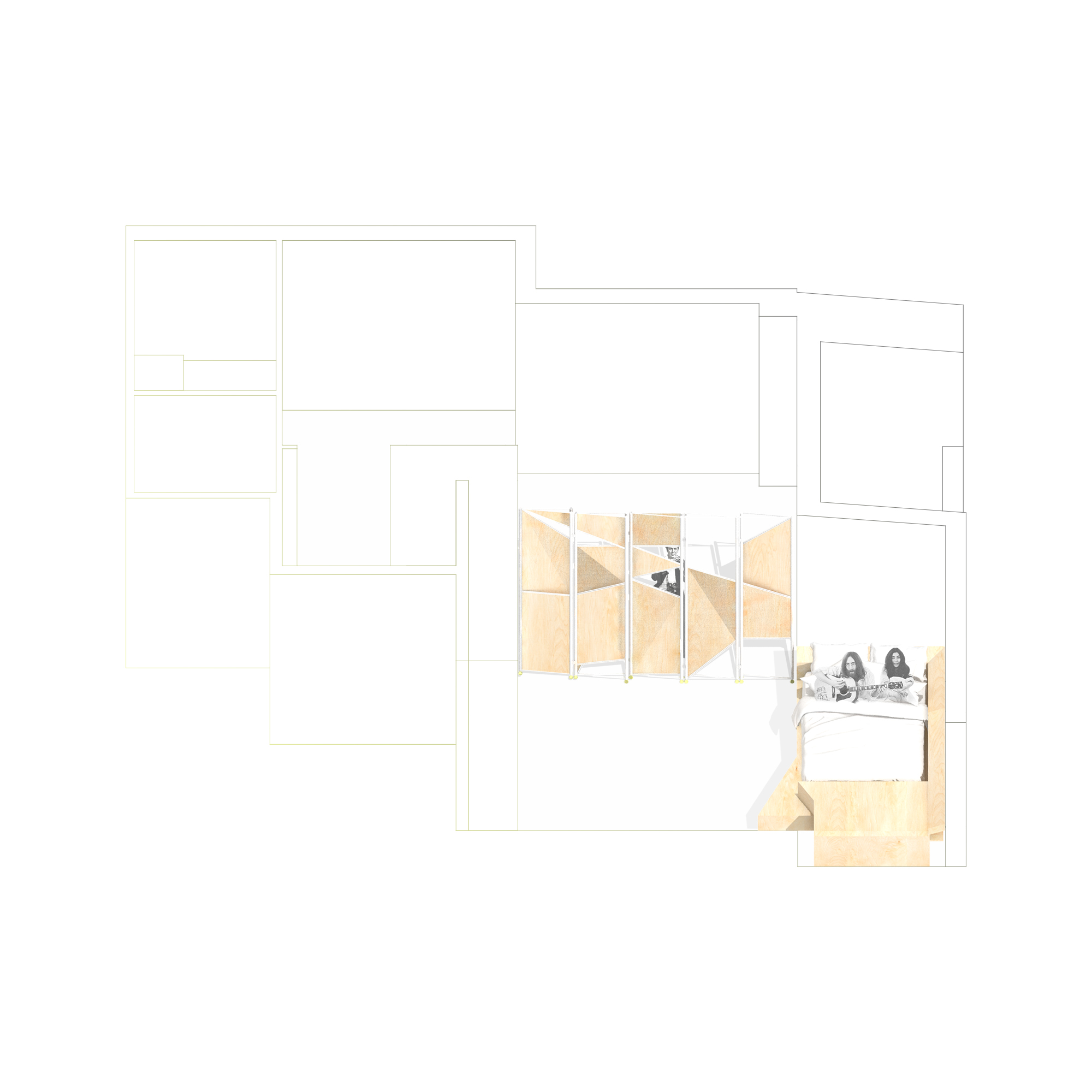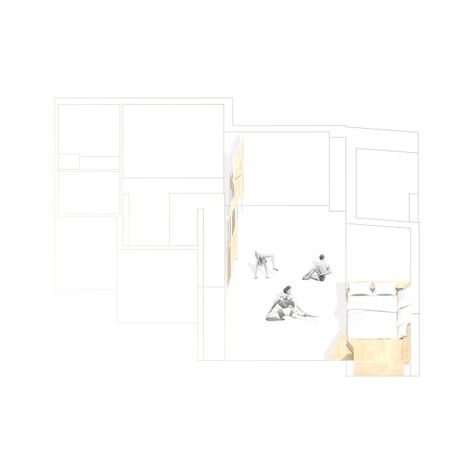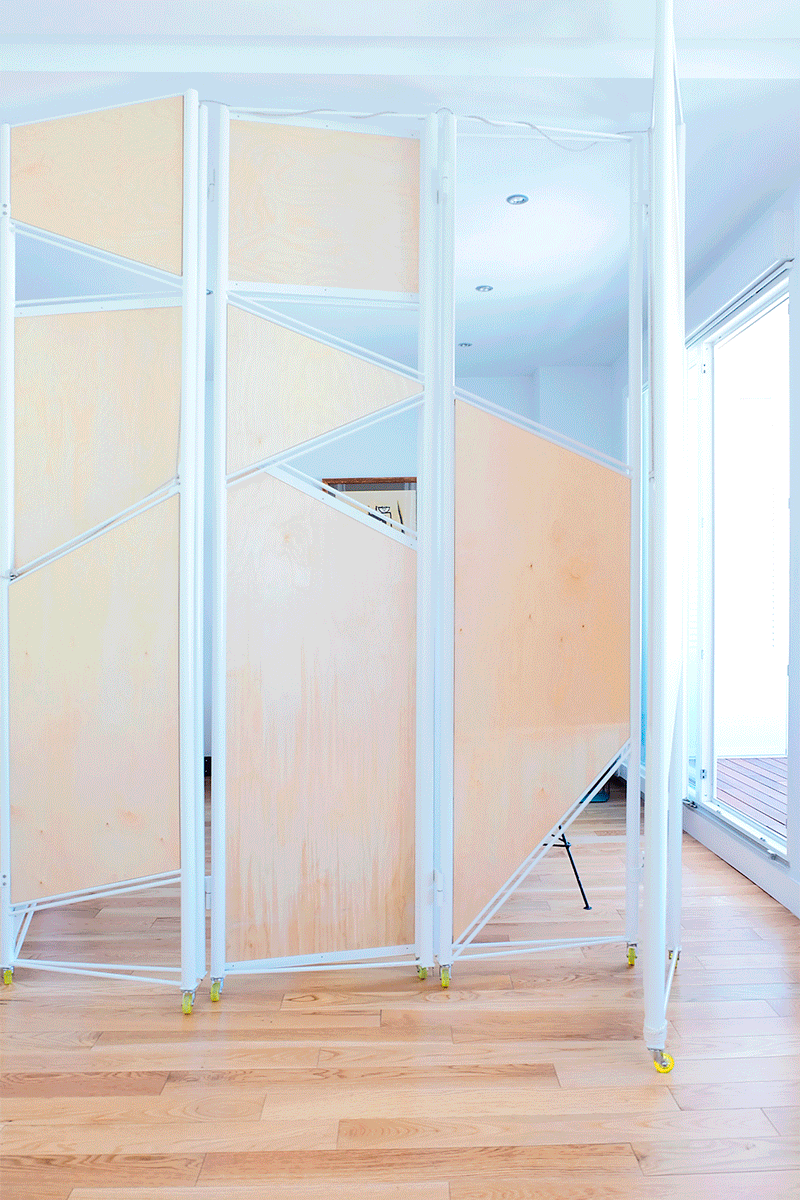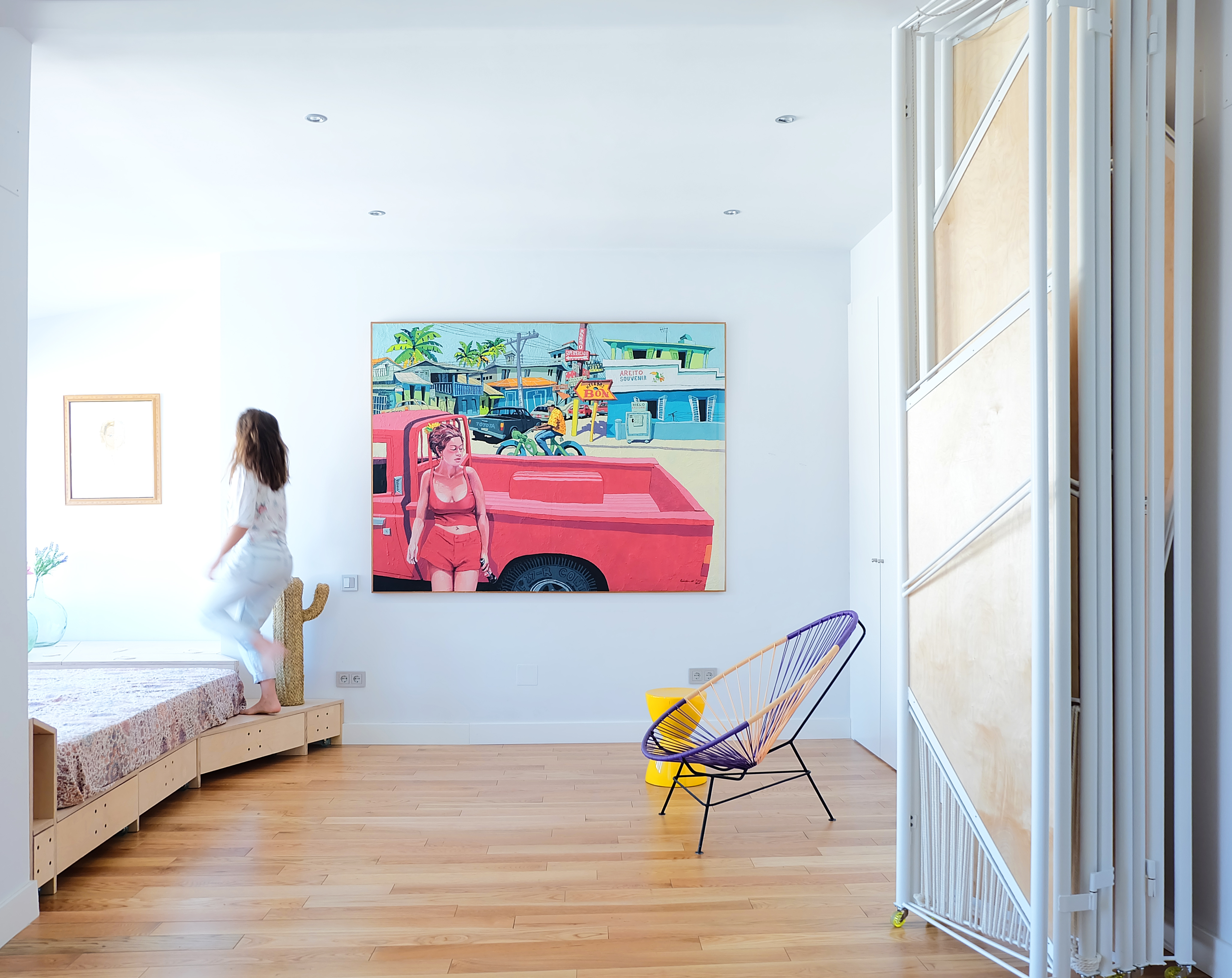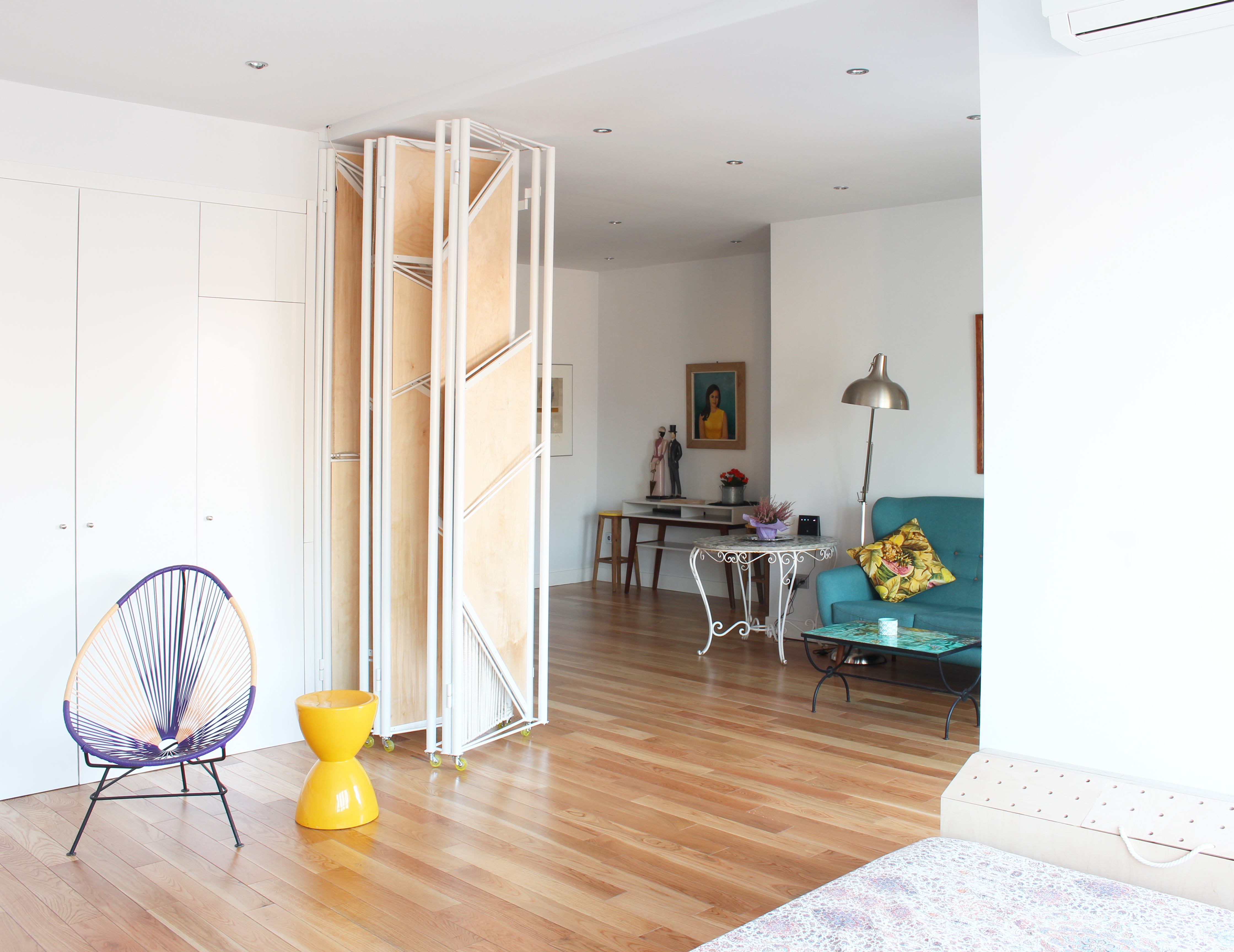 Arquitectos: ensalada works
Arquitecta a cargo: Marta Badiola y Jorge Pizarro Fotografía: ensalada works

El proyecto es la renovación del ático de Olga en el centro de Madrid. El estado anterior de la vivienda propuso diferentes habitaciones separadas por particiones: un dormitorio y un salón comedor.

Esta configuración no respondía a las necesidades del cliente, una mujer independiente que buscaba un entorno con mayores posibilidades. El objetivo era lograr un espacio flexible, dinámico y adaptable que lograra multiplicar funcionalmente la superficie de la casa.

Articula una estrategia mediante la cual las modificaciones espaciales, que darán como resultado un espacio flexible, no tienen que comprometer el estado de la casa en exceso, sino que deben ser parte de él, no deben convertirse en simples objetos de mobiliario, ni deben modificar arbitrariamente los elementos de construcción preexistentes.

Bajo esta premisa, se desarrolla un proyecto basado en dos decisiones fundamentales: la construcción de una "partición" maleable y la creación de un "espacio de cama". Estas dos invasiones quirúrgicas simples podrán modificar por completo la forma de habitar la casa, logrando un espacio transformable y múltiple.

El "espacio de la cama" La subversión de la ubicación tradicional de la cama funciona en dos niveles simultáneamente, por un lado, libera un espacio completo que puede ser colonizado de muchas otras maneras y, por otro, le da a la cama un lugar privilegiado, al lado del Vistas de Madrid. Genera un espacio inesperado, un espacio de múltiples cajones que alberga almacenamiento y soporta una superficie sobre la cual observar las puestas de sol en las cúpulas de Madrid.

Una "partición" maleable El objetivo del proyecto no era solo lograr un espacio abierto reprogramable, sino también conseguir un hogar que pudiera dividirse y transformarse de manera flexible, incluso de maneras no planificadas. Por esta razón, una "partición" maleable y suave con la capacidad de deformarse y alcanzar todos los puntos de la casa para dividir el espacio en tantas configuraciones como desee, incluso puede desaparecer para imitar la pared. Un brazo que parte de un punto central del espacio y que de manera radial y flexible permite su división.

El minimalismo estratégico se filtra a la materialidad del proyecto que se compone de abedul y acero lacado en blanco. Las superficies, que se separan y dividen, son de madera, los elementos lineales y puntuales que sostienen y sirven como asideros son de acero.
El proyecto quiere ser una muestra de cómo dos decisiones radicales basadas en una estrategia de integración con la preexistencia pueden significar un cambio drástico en la forma de habitar un espacio.

Olga no quiere un apartamento de una habitación, ni uno de dos. Tampoco quiere todo en un solo espacio abierto. Quiere invitar a sus amigos a cenar en su amplio salón con vistas a Madrid y no ver la cama donde duerme. Quiere tener una habitación cómoda desde donde ver las estrellas. Ella quiere un gran vestidor y un segundo dormitorio para los días en que su hijo duerme en casa. Su casa de 52 metros cuadrados es todo eso y más.

Architects: ensalada works
Architects in charge: Marta Badiola & Jorge Pizarro
Photography: ensalada works
The project is the renovation of the attic of Olga in the center of Madrid. The previous state of the dwelling proposed different rooms separated by partitions: a bedroom and a living-dining room. This configuration did not respond to the needs of the client, an independent woman looking for an environment with greater possibilities. The objective was to achieve a flexible, dynamic and adaptable space that managed to multiply functionally the surface of the house.

It articulates a strategy by which the spatial modifications, which will result in a flexible space, do not have to compromise the state of the house in excess, but should be part of it, they should not become mere objects of furniture, nor should they arbitrarily modify the pre-existing construction elements.


Under this premise a project is developed based on two fundamental decisions: the construction of a malleable "partition" and the creation of a "bed space". These two simple surgical invasions will be able to completely modify the way of inhabiting the house, achieving a transformable and multiple space.
The "bed space"
The subversion of the traditional location of the bed works on two levels simultaneously, on the one hand liberates an entire space that can be colonized in many other ways and on the other gives the bed a privileged place, next to the views of Madrid. It generates an unexpected space, a multiple-drawer space that houses storage supports a surface on which to observe the sunsets in the domes of Madrid.


A malleable "partition"
The objective of the project was not only to achieve a re-programmable open space but to get a home that could be divided and transformed in a flexible way, in even unplanned ways. For this reason, a malleable, soft "partition" with the capacity to deform itself and reach all the points of the house to divide the space in as many configurations as you want, can even disappear to mimic the wall. An arm that starts from a central point of the space and that in a radial and flexible way allows its division.
The strategic minimalism is filtered to the materiality of the project that is composed of birch and lacquered steel in white. The surfaces, which separate and divide, are wood, the linear and punctual elements that support and serve as handholds are steel.

The project wants to be a sample of how two radical decisions based on a strategy of integration with the preexistence can mean a drastic change in the way of inhabiting a space.
Olga doesn't want a one-room apartment, not one of two. Nor does she want everything in a single open space. She wants to invite her friends to diner in her spacious lounge overlooking Madrid and not see the bed where she sleeps in. She wants to have a comfortable room from which to see the stars. She wants a great dressing room, and a second bedroom for the days that her son sleeps at home. Her 52sqm home is all that, and more.