BWINDI NATIONAL PARK, UGANDA

Nkuringo Little Silverback School
PRIMARY SCHOOL, 2017 - WIP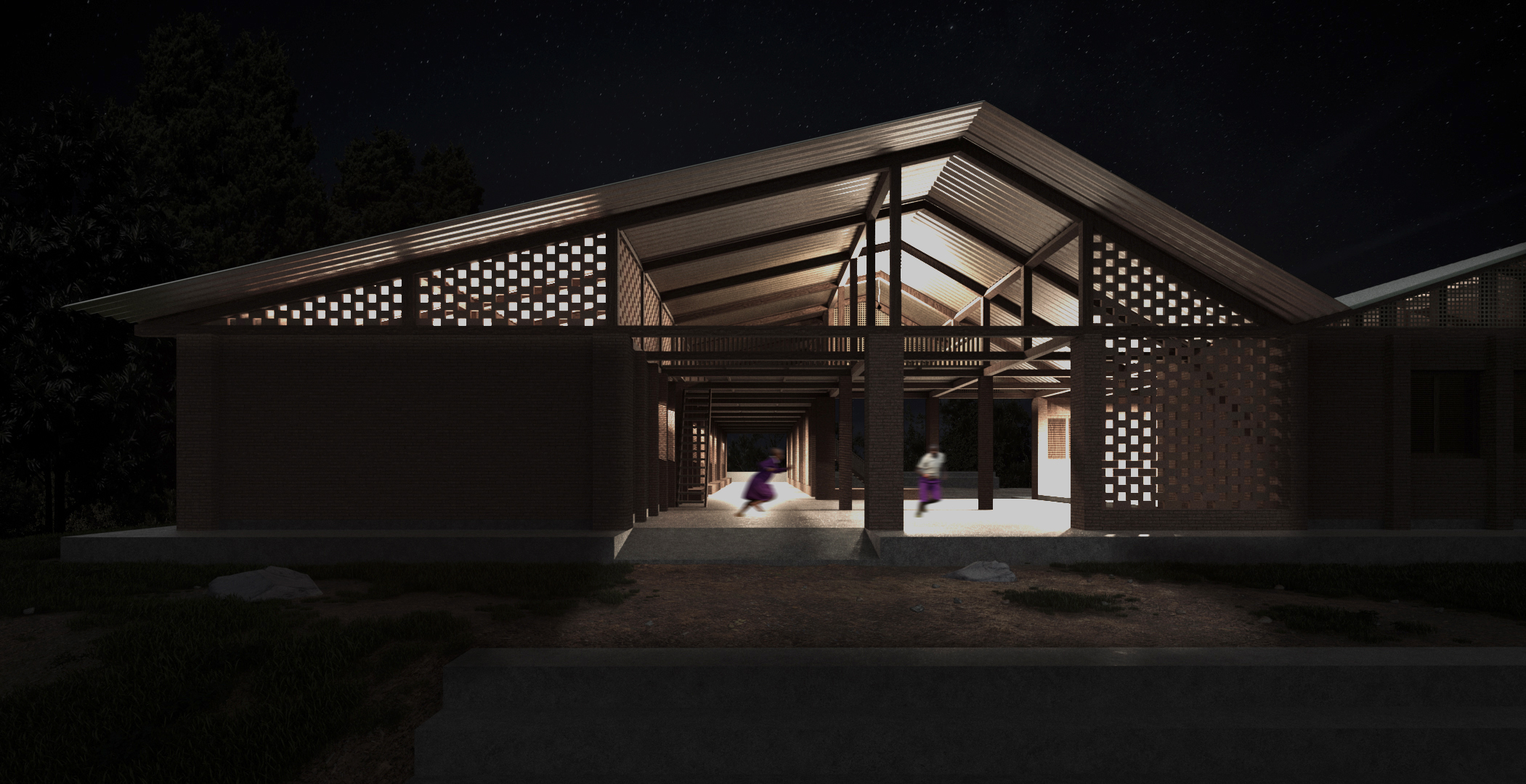 Arquitectos:
ensalada works
Arquitecta a cargo:
Juan Crespo, Alba Carrasco y Ana Pro
Imágenes:
GArchviz
Proyecto resultado de nuestra colaboración con la
ONG Little Silverback
Conociendo bien las condiciones del lugar, consideramos muy importante la simple ejecución de la nueva propuesta. También era importante utilizar la menor cantidad de material posible para la cantidad máxima de espacios, debido a la escasez de recursos.
Espacios cubiertos abiertos:

Después de dos años en Nkuringo, lo que más se necesita es algo tan simple como esto, cada vez que llueve (llueve mucho), todos los niños se pegan a las paredes en el pequeño espacio cubierto por el techo, deteniendo cualquier actividad que estén haciendo. además de empaparse. Esta humedad constante causa muchos problemas en la piel, especialmente en los más pequeños. La idea es que puedes ir de cualquier lugar a otro bajo techo.
Respeta el gran espacio abierto:

En Nkuringo, las grandes superficies planas son escasas y para jugar al fútbol a menudo tienen que ir al campo de fútbol desde la cima de la montaña.
Aprovechando el hecho de que la parcela ya está en un lugar como este, no creemos que sea necesario "interrumpir" este espacio con edificios, especialmente con las vistas del valle que tenemos, por lo que nos gustaría ser el lugar de juego para los niños
Flexible y ampliable:

Hay 10 salones, su modulación y los espacios cubiertos que permanecen a los lados permiten la expansión futura si el crecimiento de la escuela requiere acomodar a más niños.
La separación entre clase y clase está hecha de madera, que se puede quitar para aprovechar el potencial de un espacio como este para las diversas actividades de la comunidad.
Con la distribución de este proyecto, la base que pueden hacer es muy simple, así como el pedestal que sirve de base para toda la escuela. Por otro lado, aprovecha la separación generada por la pendiente a los espacios públicos y privados.
Architects: ensalada works

Arquitects in charge: Juan Crespo, Alba Carrasco y Ana Pro

Images: GArchviz
Project result of our collaboration with the NGO Little Silverback

Knowing well the conditions of the place, we consider very important the simple execution of the new proposal. It was also important to use the least amount of material possible for the maximum number of spaces, due to the scarcity of resources.
Open covered spaces:

After two years in Nkuringo, what is most needed is something as simple as this, every time it rains (it rains a lot), all children stick to the walls in the little space covered by the roof, stopping any activity that they are doing as well as soaking in. This constant humidity causes a lot of skin problems especially to the smallest ones. The idea is that you can go from any place to another under cover.

Respect the large open space:

In Nkuringo large flat surfaces are scarce and to play football they often have to go to the football pitch from the top of the mountain.


Taking advantage of the fact that the plot is already in a place like this, we do not believe that it is necessary to "interrupt" this space with buildings, especially with the views of the valley that we have, so we would like it to be the play place for the kids

Flexible and expandable:

There are 10 rooms, their modulation and the covered spaces that remain at the sides allow the future expansion if the growth of the school requires to accommodate more children.


The separation between class and class is made of wood, which can be removed to take advantage of the potential of a space like this one for the diverse activities of the community.
With the distribution of this project, the foundation that they can do is very simple, as well as the pedestal that makes base for the whole school.
On the other hand, it takes advantage of the separation generated by the slope to public and private spaces.